All About Brewers Organics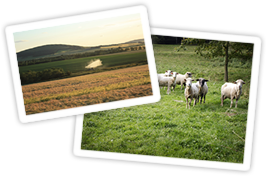 Brewers Organics is the premier organic produce delivery service based out of Milwaukee. We currently serve Southeast Wisconsin, Madison, and the Fox Cities, but we continue to grow and add new communities. We believe in connecting families with good, organic fruits and veggies and believe there should be an option to 'conventional' chemical covered produce.
Our mission is to make organic veggies accessible to everyone and to give as much back to the community as possible! We donate produce weekly and support local charities and food banks- and we even go beyond fruits & veggies! Our customers help us give back by leaving out an 'item of the week' that a local charity is in need of, and we help by contributing.
We believe that eating is more than just providing fuel for life- we think it's about eating good food with good people. Our society has been accelerated to a point where most people have lost contact with just how important our food chain is. We think that supporting our neighbors, promoting local business, and realizing that there are families whose life goal is to grow delicious, organic produce is a step in the right direction.
We hope you'll join us in our mission, and help make this world a better place, one box at a time.
Meet The Owners
Hello! We are Brandon and Amanda Ferguson. Most of you already know me, Amanda, I am the one who responds to your emails and phone calls. Many of you may also be familiar with Brandon, our Facebook and Twitter guru, and as you have probably figured out, he's a huge local sports fan! Brandon and I met when were in high school at Wauwatosa East, and later we both attended UW-Green Bay. We were married in 2006 and currently live in Bay View with our children, Liam (4) and Adeline (2). I have spent the past 10 years working in the non-profit sector in Milwaukee, and currently I am working directly with our homeless.
As parents of two young children we have spent too much time reading and re-reading labels to figure out what is in the food we eat. We shouldn't need to use google to figure out what is in our food. Food should be easier. We need to get back to the basics: food grown without chemicals and food produced without added ingredients. We strongly believe in organic, local, natural and humane foods. Together, at Brewers Organics we can all make a difference. We support the small family farm and the farmers who are choosing to do things the right way. And, we can help the local businesses where our friends and neighbors take time to make something the simple and natural way.
After helping run it for the past two years, Brandon and I are thrilled to be taking over Brewers Organics! As we move forward, we will be expanding our add-on options to include locally made products. We love Wisconsin, and Milwaukee is an amazing city with so many wonderful food options. Don't worry, you will still see the wide variety of organic produce delivered each week to your door! We will continue to keep things simple, support our local food pantry, and keep those unlimited substitutions that you all love. But, we are going to offer you more local add-on options and even some additional box options!
Together, we can make organic and natural food more accessible and affordable, all while helping our local businesses to thrive!